CONFORMATION
"Conformation" is the official name for "dog shows." While they may seem glamorous, the true purpose of conformation showing is to evaluate breeding stock. The dog's conformation—his overall appearance and structure—is an indication of the dog's ability to produce quality purebred puppies, and that is what is being judged in the ring. That's why mixed-breeds and spayed or neutered purebreds are not eligible to compete. Many times a new exhibitor will get started in dog shows by finding a mentor, usually the breeder they acquired their puppy from. Many AKC clubs also offer handling classes to teach owners how to present their purebred dog to a judge at a dog show.
 
Some Helpful Links:

Getting Started - AKC
Judging Information - AKC
Events and Awards Search - AKC
How to start Junior Showmanship - AKC
Conformation FAQ - AKC

 
---
2020 January Specialty
GPDC's January Specialty conformation show will be held on January 15th, 2020 at the Portland Expo Center.  There will be both an AM and a PM show.  Click HERE for Premium List and Entry Form.  We are continuing with the Lumber Jack theme this year!  
---
2019 June Specialty
GPDC's June Specialty will be held on June 20-21st at the Clackamas County Fairgrounds.  The premium list and entry form can be found HERE Our theme this year is TIE DYE!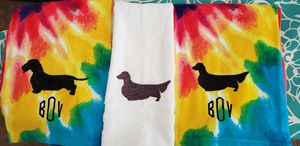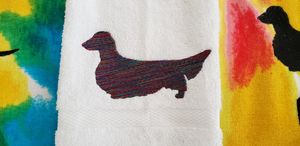 Beautiful trophy awards created by GPDC Member Patrice Baker
---
Specialty Show January 16th, 2019
                        Photos from our Lumberjack themed Specialty Show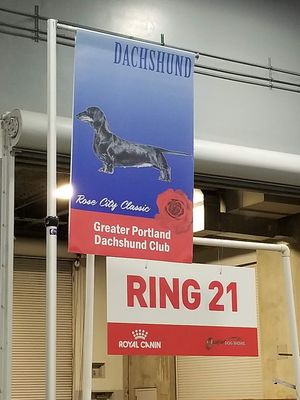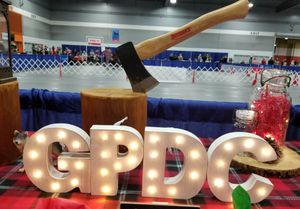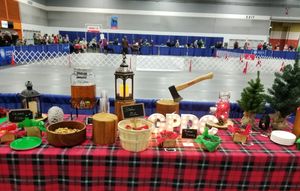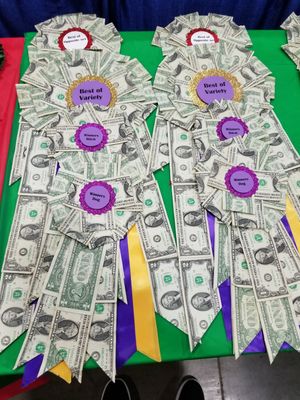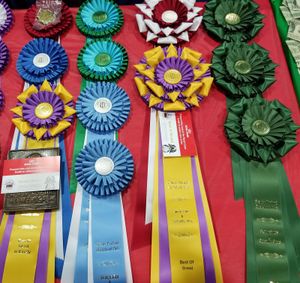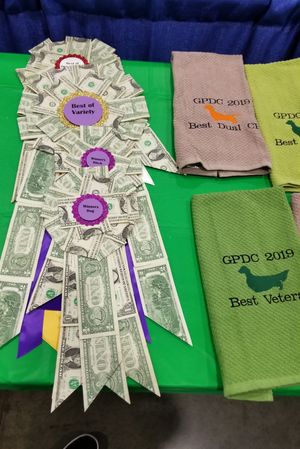 ---
The Greater Portland Dachshund Club awarded the AKC Good Sportsmanship Award to member Kim White for all her hard work, dedication, and sportsmanship shown during the year.  Kim is on the Earth Dog committee and is active with earth dog, field trials, and conformation. 
---
Also at the Rose City Classic Dog show the Greater Portland Dachshund Club participated in the AKC Meet The Breeds event.  We hosted a booth for an hour on the Saturday day of the show and had all three coat types represented.  We engaged with the public and answered questions about dachshunds and our club, as well as letting people pet and cuddle our dogs.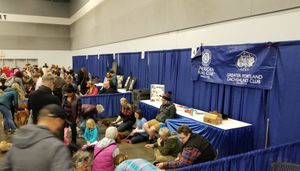 Specialty Show June 2018
The June Specialty Show was held at the Clackamas County Fairgrounds in Canby, OR.  The weather was beautiful and the turnout was great!  Can't wait to see everyone at the 2019 June Specialty!  Check back for more information closer to the event.
Specialty Show January 2018
The January Specialty Show was held at the Expo Center in Portland, OR.  The theme for the show was "LumberJack" and we will continue this theme for the January 2019 Specialty.  Check back for more information closer to the event.